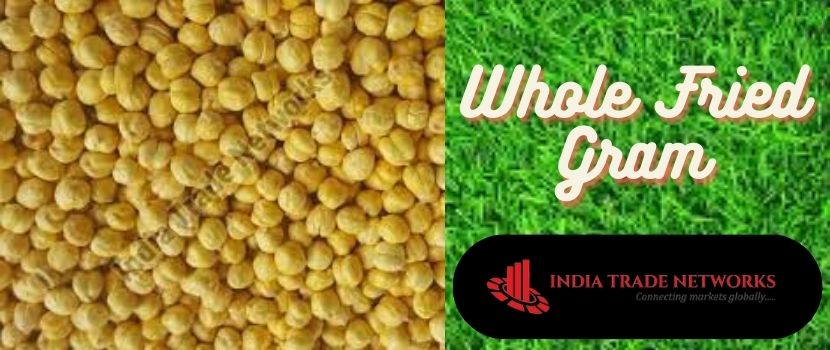 Middle Eastern nations have been cultivating and consuming garbanzo beans, often known as chickpeas, for thousands of years. They go well with a variety of various dishes and components because of their nutty flavour and coarse texture.
Chickpeas, often referred to as chana in Hindi, are a nutrient-rich source of fibre, vitamins, and minerals that may help with weight control, improved digestion, and a lower risk of sickness. Whole gram is an amazing meat substitute. It is good to add them in your vegetarian or vegan diet.
One can get these from reliable suppliers of whole fried gram in Bangalore. The following are the principal advantages of eating gram or chickpeas:
Rich in Nutrients
In Hindi, chickpeas are referred to as chana, and one cup of them has 269 calories (164 grams) in it. These calories contain around 67 per cent carbohydrates, with the remaining calories coming from protein and fat. Along with a variety of vitamins and minerals, they offer a significant quantity of protein and fibre.
Manage Blood Sugar
Chana is a source of protein, fibre, and complex carbohydrates. The ability of your body to absorb nutrients is controlled by this. Lowering blood sugar levels lowers the risk of type 2 diabetes.
Fostering Brain Health
As choline, an important building block of brain function can be found in large quantities in chickpeas (chana), they are well recognized for supporting brain health.
Help with Losing Weight
Chana that has been soaked is calorie- and nutrient-rich. It is a good source of fibre and protein and has a low glycaemic index. Due to its high fibre content, you won't overeat or binge on unhealthy snacks because it will satisfy your appetite.
Soaked Chana's high protein and fibre content aids with weight control. Yellow chana that has been roasted can help you lose weight by making you feel fuller and prompting you to eat fewer meals.
Avoid Chronic Illnesses
Soaked chana has a lot of magnesium and potassium, two minerals that decrease bad cholesterol and lower blood pressure. Furthermore, it encourages the production of butyrate, a fatty acid that lowers inflammation. Because of its antioxidants, there are fewer cases of lung, breast, and colon cancer.
Boost haemoglobin
It increases the amount of haemoglobin in your body since it is iron-rich. Pregnant ladies, nursing mothers and anaemic persons should have chana in their diet.
Improve Skin
The magnesium in chana moisturizes the skin and promotes the production of collagen. Wrinkles, free radicals, and other signs of ageing are reduced as a consequence.
Encourages Hair Growth
If you want good hair, incorporate soaking chana into your diet. Soaked chana contains essential vitamins and minerals, such as vitamin A, B6, zinc, and manganese that can surely aid if you are concerned about the health of your hair. It has also been demonstrated that regularly drinking soaking chana can slow down the premature ageing of hair.
Improve Digestion
Chickpeas' high fibre content provides several benefits for digestive health. In the digestive tract, the bulk of the soluble fibre included in chickpeas combines with water to create a gel-like substance. In your stomach, soluble fibre may encourage the growth of beneficial bacteria while inhibiting the growth of dangerous bacteria.
The chance of developing a range of digestive diseases, including colon cancer and irritable bowel syndrome (IBS), can consequently be reduced.
Choose to deal with the right supplier's whole fried gram in Bangalore and get quality products from them that will provide amazing health benefits upon consumption.